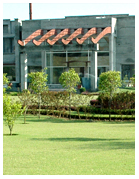 QUALITY
Holographic Origination and Machineries Limited (HOML) specializes in the production of holograms for labels and stickers. Holograms are subjective in nature thereby making formal quality standards difficult. HOML takes certain steps that insure that we produce a quality product that suits our customer's needs.
Prior to clients placing an order artwork is evaluated for holographic image feasibility. HOML works closely with our customer to achieve the best possible image that meets or exceeds the client's objective. HOML provides the customer with an illustration of layout and layers for approval prior to the mastering stage of production. A holographic master is then created; again the customer is provided with a proof for approval prior to label production. The holographic proof provided is in its purest format and our customers are reminded that HOML will lose a very small percentage of brightness when labels are made. The holographic proof then becomes the image quality standard. While on press the labels being produced are inspected several times for image quality, registration and die cutting. Quality inspection is continuously made during the finishing process of press rolls into finished product for application. Samples of finished product are retained in our files for future reference. Final inspection is made during packaging.
HOML over time has narrowed its vendor supply for raw label material to a select few suppliers. Products sold by HOML are based on tests and research, which are believed to be reliable, but do not constitute a warranty or guarantee of any kind. In each instance where product is sold or a sample thereof is provided, it is the understanding that the customer and/or ultimate user has independently determined the suitability of such product for application under its own operating conditions. HOML can provide, at customer request, a certificate of conformance.
INDEMNIFICATION
Prior to manufacturing any product (including but not limited to graphic art, stamping foil, holographic masters, holographic images, die cutting processes and other related print services or device now known or hereafter invented), HOML, requires you to certify the following; personally or as on officer with the capacity to bind your company, hereinafter referred to Customer, to make the following assertions:
Customer understands that HOML is an original label manufacturer operating at Customer's direction. HOML makes every effort to protect intellectual property of both Customer and third parties. Customer understands and has complied with all applicable laws, including but not limited to foreign and domestic copyright laws.
Customer represents and warrants to HOML that it owns or has obtained all necessary rights and permission for use of all product, labeling, or other material provided by Customer to HOML for use in the manufacture and/or reproduction of a product, hereinafter referred to as Customer Material, and that it shall pay or cause to be paid, all royalties or other sums which may become due under any contractual arrangement or and applicable laws in any jurisdiction as it relates to Customer Material.
HOML reserves the right to immediately cease any transaction, which, in its sole discretion, may even appear to infringe the rights of any third party. In such cases, all sums due by Customer to HOML shall become immediately due and payable. HOML reserves the right to halt production and delivery of any Customer product until such time as HOML counsel agrees to resume.
Customer agrees to indemnify, defend and hold harmless Security Hologram, its partners, successors and assigns, jointly and severally, from any and all claims, suits, liabilities, losses, damages and reasonable legal fees and expenses which are related to or arise out of any breach of the representations made by Customer herein, whether during the manufacturing relationship or at any time thereafter. HOML reserves the right to participate in the defense of any third party claim which Customer is obligated to indemnify HOML as provided above at the expense of the Customer.
WARRANTY
HOML represents and warrants to Customer that, the products manufactured by HOML and sold to the Customer will meet the requirements set out in the applicable written specifications proposed by the Customer and approved by HOML and will be free from defects in material and workmanship under normal use and service. Should the product be shown to be defective to the satisfaction of HOML within 10 days of receipt of product, the exclusive remedy for breach of such warranty shall be, replacement of the defective product. Due to the nature of our security products we have a NO REFUND policy. HOML's sole obligation with respect to the foregoing limited warranty, and Customers sole remedy for breach of such warranty, is limited to repairing or replacing the product, which has been returned to HOML within the warranty period. This limited warranty does NOT apply to any product that has been subjected to misuse, negligence or accident, and this limited warranty does NOT cover accessories or components manufactured by persons or entities other than HOML that are incorporated into or accompany such products.
EXCEPT AS EXPRESSLY STATED HEREIN, HOML MAKES NO OTHER REPRESENTATIONS OR WARRANTIES OF ANY KIND, EXPRESS OR IMPLIED, INCLUDING WITHOUT LIMITATION WARRANTIES OF MERCHANTABILITY, FITNESS FOR A PARTICULAR PURPOSE, NON INFRINGEMENT, AND WARRANTIES ARISING FROM COURSE OF DEALING OR USAGE OF TRADE OR ANY OTHER MATTER.
The remedies set forth herein are the exclusive remedies available to Customer for losses or damages of any kind. IN NO EVENT SHALL HOML BE LIABLE TO ANY PERSON FOR CONSEQUENTIAL, INCIDENTAL OR SPECIAL DAMAGES OF ANY KIND, WHETHER ARISING OUT OF WARRANTY OR OTHER CONTRACT, NEGLIGENCE OR OTHER TORT OR OTHERWISE.
No agent, employee or representative of HOML has any authority to bind HOML to any affirmation, representation or warranty except as stated herein.